Avalanche's Perpendicular STT-MRAM Technology
The core of Avalanche's STT-MRAM cell is a proprietary perpendicular magnetic tunnel junction (p-MTJ) element which includes including a magnetic fixed layer, a dielectric barrier layer and a changeable ferromagnetic storage layer. The magnetic orientation of the fixed layer is fixed during the manufacturing process. During a programming operation, the magnetic orientation of the storage layer is electrically switched from a parallel state (low resistance state "0") to an antiparallel state (high resistance state "1"), or vice versa, depending on the current direction through the p-MTJ element. Two distinct resistance states can thus be realized for data storage and sensing. The structure of the p-MTJ element can be tailored for different performance specs and application needs.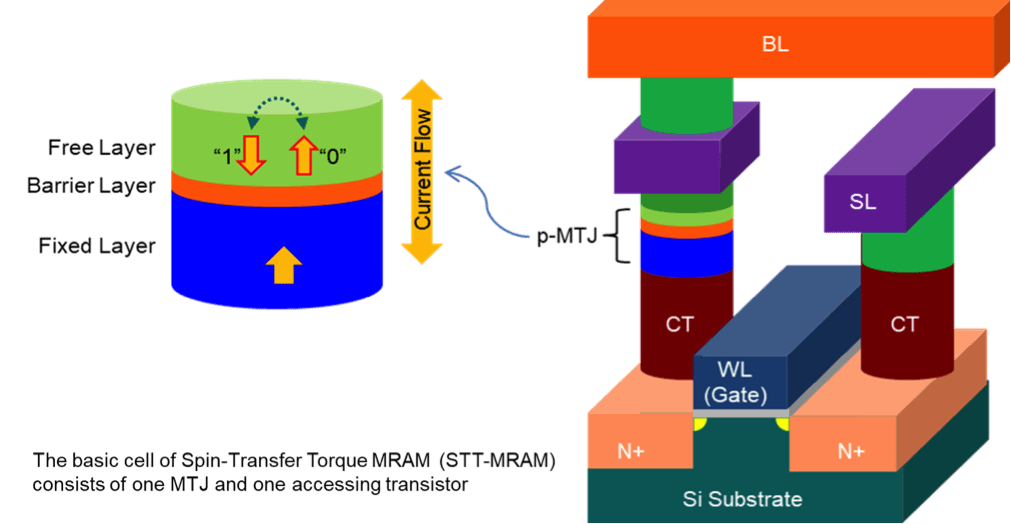 Avalanche's Perpendicular STT-MRAM Technology Attributes
Avalanche's Perpendicular Spin Transfer Torque MRAM technology delivers the next generation scalable embedded unified memory architecture with the benefits of low latency, low power, infinite endurance, high performance and scalability to lower geometry nodes.